Press Release
Say "Happy Valentine's Day" in over 100 Languages with the Newly Released AHAbook from AHAthat
Share "aha.pub/HappyValentines" in your social media status or that of a loved one to say "Happy Valentine's Day" in a most unique way.
CUPERTINO, visit this CA – February 13, for sale 2017 – Every year on February 14, we mark our calendars to celebrate the day and spend special time together with our life partners, friends, families, and even co-workers. Though the history of Valentine's Day is uncertain, it never hinders the excitement and joy of the people to celebrate the most romantic month of the year.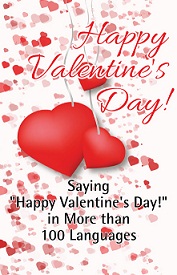 This observation is all about love. It isn't just a simple feeling but rather a deep connection, self-acceptance, and respect. But why love is important? Because it's a path to self-discovery, an exceptional source of motivation, and above all, it is the greatest feeling. And do you know what makes love more exciting? When we celebrate and share it with other people! And Valentines is just among the most special events where we can perfectly showcase our emotional side.
In line with this momentous gathering, AHAthat releases a book that informs how to greet Happy Valentine's Day in different languages. Just share the url http://aha.pub/HappyValentines (or just aha.pub/HappyValentines) in your social media status of that of your loved ones and a you'll see the book cover and when clicked 100+ languages to say "Happy Valentine's Day!". Whether you are happily married, in the phase of moving on from a past relationship, or still enjoying the status of being single, you will surely find this book just right for you this season. Greet everyone from all over the globe using over 100 translations from this AHAbook.
"Valentine's Day is the time of the year when we share the feeling and happiness with our loved ones. It's when we show how much we love our families and friends. This book is a perfect drive to greet each one of them using the language that they speak no matter where they are in the world," says Mitchell Levy, the AHA Guy at AHAthat (http://AHAthat.com).
Share the love this Valentines season by sending great messages of endearment and affection. Express how much you love these cool people by greeting them a Happy Valentine's Day on social media through a click of a mouse at: http://aha.pub/HappyValentines.
Here are some of the Happy Valentine's Day phrases in multiple languages that you can share from this book:
If you want to see and share more great phases in different languages, then register or use the AHAthat as a guest to access the full list of books available in the library: http://aha.pub/Phrases. Start sharing AHAmessages today!
About AHAthat™:
AHAthat makes is easy to SHARE, AUTHOR & PROMOTE you. As the first AHAleadership (Thought Leadership) platform on the market, it allows you to 1) Easily build your brand by sharing others' quotes with proper attribution and 2) Show your expertise by creating your book in 8 hours and having others share your quotes.
There are over 37k quotes from recognized AHAleaders that you can share in seconds for free. All content on the platform is curated by THiNKaha which has published over 800 physical and eBooks.
About THiNKaha®:
THiNKaha makes it easy to create compelling content that helps turn corporate experts into recognized thought leaders. THiNKaha services include: Curation for the Aha Amplifier, Thought Leadership Mentoring/Coaching, Book Publishing, Social Media, Traditional Media Coaching, Vetted Referrals, Producing and Repurposing Content for Shows like Thought Leader Life, and many other Thought Leadership Services, including the Creation and Support of Corporations' Thought Leadership Blueprints.
To have us help your corporation amplify its thought leadership, please contact Jenilee Maniti at jenilee.maniti@thinkaha.com or call (408) 257-3000.