Press Release
Learn the Value of Physical Networking in Today's Era with
"Mingle: The Art of Face-to-Face Networking in the Digital Era"
by Steven David Elliot and Nick Cioffi
Why the "human touch" is indispensable in today's technology-driven world
CUPERTINO, CA – December 12, 2018 – Physical networking can bring about big opportunities for you and your business. The people you meet when you network can help you achieve your goals if you do it right. Trust is something that you have to earn if you want people to do business with you and refer you. To be effective in networking, you need to present yourself as someone who's authentic and can bring in value to the table. You also need to make use of the tools available to leverage the in-person meeting and networking that you've done.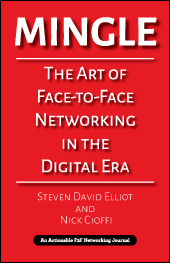 Co-Authors Steven David Elliot and Nick Cioffi of Rockstar Connect, a firm specializing in setting up, filling the room, and managing physical networking, wrote this book as a tool not just to help their meeting hosts and attendees, but all individuals who see the benefits of networking face-to-face (F2F). Through years of experimentation and implementation, they are experts at what they do and have made it easy for you to hone your skills in this area as well.
This AHAbook™ comprises 140 AHAmessages™ that enlightens all business people on how physical networking can greatly help your business. There are big opportunities to be created and found if you mingle with other people.
A hardcover, paperback, and Kindle version of this book is available on Amazon. You can download the Kindle version of this book for FREE today until December 16! Grab your copy now: https://amzn.to/2OXWaFd
"If you want to take your business to a higher level, you need to have people supporting you. This book successfully explains why it's true that as individuals, we may fail, but as a group, we can succeed."says Mitchell Levy http://aha.pub/MitchellLevy, The AHA Guy Thought Leader at AHAthat™ (https://AHAthat.com).
Here are a few of the powerful and eye-opening AHAmessages you can share from this book:
Read and share AHAmessages in this AHAbook on Twitter, Facebook, LinkedIn, and Google+ by going to http://aha.pub/Mingle.
To learn how to read and share AHA messages from this book, check out this video: https://youtu.be/JqvtYxDkrtQ. To learn how automatically share via AHAblaster, please watch: https://youtu.be/SGZLwk21cfk
About AHAthat™:
AHAthat makes it easy for you to establish your expertise, whether it's by sharing high-quality content of thought leaders from around the world (over 46k AHAmessages that you can share in seconds, for free) or by quickly creating a thought leadership book of your own. You can press the "easy button" by having us ghostwrite your book and run an Amazon Bestseller Campaign. If you want to write it yourself, you can follow a simple three-step writing process. Visit https://AHAthat.com/Author for more details.
We also encourage you to read your book out loud so we can distribute the audio version on 23 audio platforms and incorporate it onto AHAthat Radio https://AHAthatRadio.com, where AHAs are streamed 24 hours a day. All content on the platform is curated by THiNKaha, which has published over 800 physical books and e-books. Visit https://AHAthat.com, and start sharing compelling content today for free in seconds.
About THiNKaha®:
THiNKaha makes it easy to create compelling content that helps turn corporate experts into recognized thought leaders. THiNKaha Services include: Curation for AHAthat, Thought Leadership Mentoring/Coaching, Book Publishing, Social Media, Traditional Media Coaching, Vetted Referrals, Producing and Repurposing Content for Shows like Thought Leader Life, Grow Your 1099, as well as other Thought Leadership Services, including the Creation and Support of Corporations' Thought Leadership Blueprints.
To have us help your corporation amplify its thought leadership, please contact JenileeManiti at jenilee.maniti@thinkaha.com or call (408) 257-3000.