Chris Muccio, ampoule author, recipe speaker, this site and expert at driving business growth through today's complex digital revolution, has helped thousands generate leads on LinkedIn that produce results. As a highly motivated executive with keen insight into business, Chris has strategized with individuals, groups and corporations to build their roadmap to success using digital marketing. He has a proven methodology and passion for lead generation using LinkedIn and can help you and your business succeed.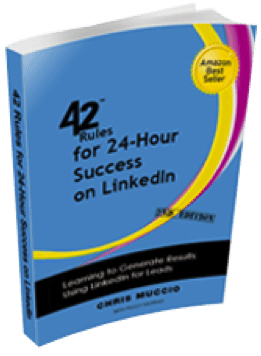 To help with this, Chris authored 42 Rules for 24-Hour Success on LinkedIn, which was an Amazon best-seller. Now, with the second edition, the content focuses on building your business strategy, generating positive awareness, engaging your leads and creating trust in this digital world. This book is full of tips and tricks, testimonies of success, and additional resources that provide practical advice on how to generate leads that convert to real business.
In our content portal, you can have unlimited access to this book and all of LeadGen20/20's digital assets There is no need for you to do your own research on Lead Generation and collect your own assets, Our "in the cloud" portal will do this for you and provides content with advice on best practices that deliver results. Have 24/7 on-line access to our content with full search engine capability to all LeadGen20/20's digital assets to stay current on methodologies you can use today.
You can review the content included in the [Demo] Lead Generation (LeadGen20/20) on the left hand tool bar. When you purchase the LeadGen20/20 bundle, you get access to all of this content.
Curious and want more information? Contact:
Janae Pierre
THiNKaha, Associate Publisher
Send a request to Janae
408-921-1568