When it comes to agile and nimble software development methodologies, Scrum stands apart. ScrumMaster
Utpal Vaishnav's
new book,
#SCRUM tweet
, gathers together practical thought-lenses on the myriad aspects of driving a Scrum-based project. The author deals with building the right mindset; applying that mindset to develop great software; and, most importantly, maintaining a framework of introspection, inspection, and adaptability. Today, with corporations, non-profits, universities, and even the military giving Scrum some very serious backing, this new book is right on the money. Written to be easy and effective,
#SCRUM tweet
shows the path to building lean, top-notch software that drives maximum value towards the organization's bottom line.


Affiliate Link
The affiliate link for #SCRUM tweet Book01 is: https://www.thinkaha.com/scrum-tweet-book01/
IMPORTANT: Please replace the XXXXXX's in this code with your affiliate ID in order to receive credit. Be sure to test your links after implementation. This link should forward your customers to https://www.thinkaha.com/scrum-tweet-book01/
For the images below, please right click with your mouse and download the image.

Utpal Vaishnav, Author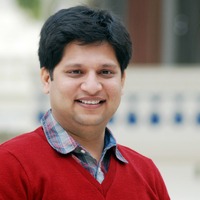 Other author images: 1 | 2 | 3 | 4 | 5

Book Art