Press Release
Greet New People in Your Life by Saying "Welcome to the Family!" in More Than 100 Languages
Special ways to welcome a new family member or team member
CUPERTINO, CA – July 31, 2017 – In our lifetime, we meet a lot of different people, many of whom become a huge part of our lives. Welcome them with open arms as they enter your life and let them feel valued and loved with the help of this book.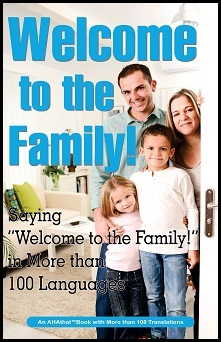 AHAthat™ brings you "Welcome to the Family!"— a new AHAthat phrasebook. If you have a new addition to the family, celebrate this joyous occasion by extending your felicitations personally or online by sharing the URL, http://aha.pub/WelcomeFamily. If you have a new team member at work, show hospitality by sharing the URL, http://aha.pub/WelcomeFamilyB. Greet everyone from all over the globe using over 100 translations from this AHAbook.
"One of life's greatest gifts is the love of a family. Blood-related or not, these people help make your life worth living. What better way to show them hospitality and that you value them than by saying, 'Welcome to the Family'? In more than 100 languages, of course!" says Mitchell Levy @happyabout, The AHA Guy Thought Leader at AHAthat (http://AHAthat.com).
To learn how to automatically share AHAmessages from this book, check out this video: https://youtu.be/qCew_GK5zsM.
Here are a few of the "Welcome to the Family!" phrases in multiple languages that you can share from this book:
If you want to see and share more great phrases in different languages, then register or use AHAthat as a guest to access the full list of books available in the library: http://aha.pub/Phrases. Start sharing AHAmessages today!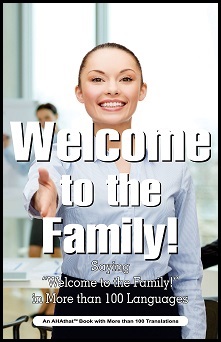 About AHAthat™:
AHAthat makes is easy to SHARE, AUTHOR & PROMOTE you. AHAthat allows you to 1) Easily build your brand by sharing others' quotes with proper attribution and 2) Show your expertise by creating your book in 8 hours or less and having others share your quotes.
There are over 40k quotes from recognized AHAleaders that you can share in seconds for free. All content on the platform is curated by THiNKaha which has published over 800 physical and eBooks.
About THiNKaha®:
THiNKaha makes it easy to create compelling content that helps turn corporate experts into recognized thought leaders. THiNKaha Services include: Curation for AHAthat, Thought Leadership Mentoring/Coaching, Book Publishing, Social Media, Traditional Media Coaching, Vetted Referrals, Producing and Repurposing Content for Shows like Thought Leader Life and many other Thought Leadership Services, including the Creation and Support of Corporations' Thought Leadership Blueprints.
To have us help your corporation amplify its thought leadership, please contact Genivieve Casabuena at genivieve.casabuena@thinkaha.com or call (408) 257-3000.