Press Release
Milestone Achieved: We Hit 500 Credibility Interviews!
The one year journey to interview 500 thought leaders on their credibility
CUPERTINO, CA – August 19, 2020 – It has been an amazing journey. We started doing credibility interviews last August 2019, with the goal of interviewing 500 thought leaders on their credibility. Fast forward a year and now we're here.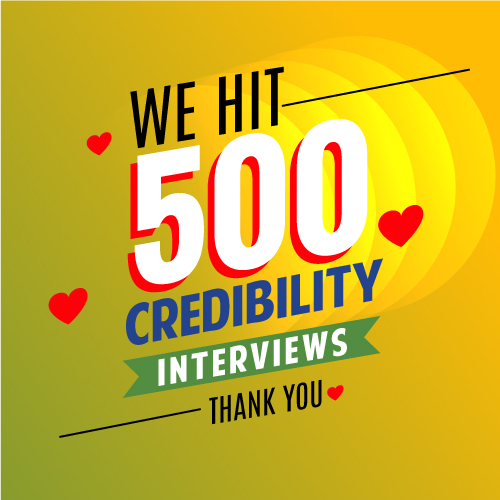 Looking back, we didn't have any idea where we were heading with the interviews, but as we got to interview amazing humans from around the world on who they are and their credibility, everything just fell into place. We didn't know that we were doing something so massive that can impact the world.
The credibility interviews led to a lot of insights and learning, which transpired into the birth of:
The new definition of credibility;

New terms to describe credibility;

Courses that aims to enhance one's credibility;

A book that sums up everything that you should know about credibility; and

A movement that will change the world in this generation and the next.
We are excited to share these and more with you. We'd like to thank everyone who took part in the interviews and those who have been supporting us since day one.
To watch the latest credibility interviews, go to: https://www.facebook.com/AHAthat and leave a like or comment.
Always be credible,
The AHAthat Team
About AHAthat®:
AHAthat spreads credust through a global application, a wordpress plugin, AHAthat Radio, and the AHAthatTradeschool.AHAthat makes it easy for you to:
Spread credust (https://Credust.com). The platform allows you to easily build your brand by sharing others' quotes with proper attribution. (https://AHAthat.com)

Get inspired and motivated 24 hours a day. Hear the voices of Thought Leaders worldwide through their AHA messages that were specifically crafted to deliver high-impact, motivational content. (https://AHAthatRadio.com)

Get in touch with partners (instructors) that have been vetted by Mitchell Levy and his team. They do what they say and say what they do. (https://AHAthatTradeSchool.com)
About THiNKaha®:
THiNKaha delivers credibility through books, credreels™, and courses.THiNKaha makes it easy to:
Have your book ghostwritten, become an Amazon Bestselling Author, and the recognized expert in your space. https://www.AHAthat.com/Author/

Create your credibility sizzle reel, showcase who you are and your credibility to your audience. https://www.ThoughtLeaderLife.com/Get-Your-Credreel/

Enhance your credibility in your LinkedIn profile and turn it into a lead magnet. https://credibility.thinkific.com/
To have us help your corporation amplify its thought leadership, please contact Jenilee Maniti at jenilee.maniti@thinkaha.com or call (408) 257-3000.