The 24 Hour Turnaround (3rd Edition) Now Available On Amazon
Distributed on 12/07/2022
Cupertino, CA based Happy About is pleased to announce that the third edition of The 24-Hour Turnaround is now available on Amazon. The book, written by Jeffrey S. Davis and Mark Cohen, aims to teach small business owners everything they need to know in order to grow their businesses.
The book offers insightful tips that could make a world of difference in an economy that is not particularly friendly toward small and family-run businesses. Small businesses are defined as firms with less than 500 employees. They are what make America run, however, providing jobs for more than half of the private workforce, and they represent over 90% of all businesses in the United States. The 24-Hour Turnaround (3rd Edition) focuses on stories of small and family-owned businesses that have managed to succeed, and it carefully explains how they did it.
"The authors, Jeffrey S. Davis and Mark Cohen, are uniquely qualified to write this book, a compilation of case studies highlighting entrepreneurial styles, innovations, and triumphs," the book's Amazon description says. "Since 1985, Jeffrey's consulting company, Mage LLC, has provided guidance, expertise, and counsel to over 700 small and family-operated businesses and organizations on issues ranging from short- and long-term strategy, marketing and sales to organizational and transitional issues. This book identifies and examines the most common situations Mage LLC has encountered with entrepreneurs and owners of private companies. The case studies, based on the authors' extensive experiences with individual entrepreneurs and their organizations, highlight means and methods by which business leaders can achieve their visions and goals, regardless of the nature of the market or the economy."
The main focus of The 24-Hour Turnaround is to explore leadership attitudes, strategies, and tactics. It serves as a blueprint for entrepreneurs looking to make it through uncertain and ever-shifting economic environments. Through The 24-Hour Turnaround, readers will learn the benefits of change and discover how to go about making real change that creates business stability, growth, and long-term success. The book uses practical examples and models to help readers understand what it takes to achieve stability, growth, and long-term success through concrete modifications (and by remaining open to new ideas without compromising on tradition and company history). It is written in a style that is meant to be easy to read and understand, making it an excellent pick-up for any business owner who wishes to achieve continuous success.
The two authors are well known in their respective fields. Jeffrey S. Davies is the CEO and Founder of Mage LLC, which is one of New England's leading strategic organizational management and family consulting firms. He is chairman of the board for both MTP Software and The Social Scene. Davies is also known as the founder and host of Radio Entrepreneurs, a daily internet business radio show. He sits on multiple boards, both private and nonprofit, and has also been an adjunct lecturer of entrepreneurship at Olin Graduate School of Business at Babson College. He is sought after internationally as a speaker, being regularly called upon by business leaders and the media to weigh in on some of the challenges that are often faced by entrepreneurs.
Mark Cohen is the director of human resources at Stavis Seafoods, Inc. He possesses a wealth of experience as both an external consultant and an internal human resources leader. His diverse background includes over 30 years of working with international and US technology computer, healthcare, biotechnology, pharmaceutical and distribution companies. He has also held a number of prominent positions, including Worldwide Director of Human Resources at Philips Medical Systems and a Senior Manager at Maxtor Corporation. He also has 16 years of experience in human resources management at Digital Equipment Corporation and held training and human resources positions at Fidelity, General Mills, and Polaroid.
Mitchell Levy, TEDx speaker, international bestselling author of over 60 books, and an executive coach at Marshall Goldsmith's 100 Coaches is a contributor to the book and has a chapter in the latest edition which Davis is delighted to include.
 "You can't hold Mitchell down, he is a force of nature. One of the qualities I look at in business success is determination – people who will run through brick walls to achieve their goals. That's Mitchell; he will find his way no matter what obstacles he encounters. I have found in working with businesses that it's not always about the business plan – it's about the person."
Mitchell interviewed 500 thought leaders on the topic of credibility, he published a 7-country international bestselling book, delivered a powerful TEDx on humanity, created courses, and created the Credibility Nation membership community to help those live, learn and surround themselves with others on the credibility journey. He has created twenty businesses in Silicon Valley including four publishing companies that have published over 750 books. He's provided strategic consulting to hundreds of companies and has been the chairman of a board of a NASDAQ-listed company.
Jeffrey S. Davies and Mark Cohen are both very experienced, successful individuals, and the secrets to their service are available for all to read in The 24 Hour Turnaround (3rd Edition). Visit Amazon to grab a copy of their new book, which is available in hardcover, paperback and Kindle version. The tips contained within the book have helped countless small businesses overcome countless hurdles and grow into successful enterprises.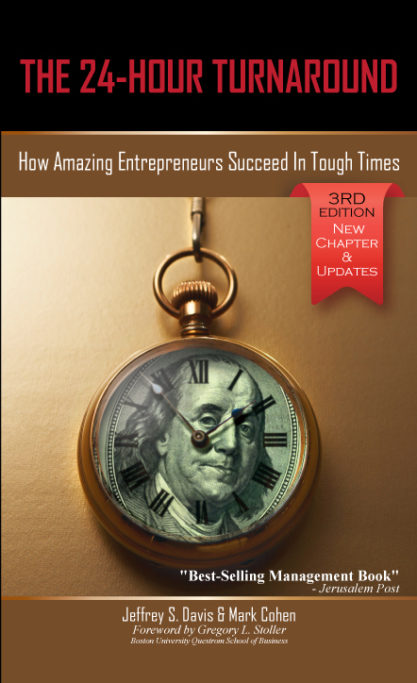 For more information about Happy About, contact the company here:
Happy About
Mitchell Levy
1-408-257-3000
mitchell.levy@gmail.com
20660 Stevens Creek Blvd. Suite 210 Cupertino, CA 95014
About Happy About®:
✔ Happy About is a hybrid book publisher that has the distribution channels of the big guys and the customer service of Nordstrom.
✔Authors get their books to market in two to four months versus 18-24 and receive significantly higher royalty rates.
✔ We've published over 400 books in eBook and print formats through over 50 distributors in over 38,000 bookstores and libraries.
Contact Happy About:
Mitchell Levy
20660 Stevens Creek Blvd. Suite 210 Cupertino, CA 95014
1-408-257-3000
mitchell.levy@gmail.com
https://www.happyabout.com