Press Release
AHAthat Released a Social Media Enabled eBook that is Great to Share This New Year!
CUPERTINO, ed CA – December 27, 2016 – Do you have good habits that need to be retained or bad habits that need to be changed? How do you know? Start by asking yourself these simple questions: Are your habits putting your health at risk physically, mentally, or both? Are you wasting your time and energy because of sticking to those bad practices? Is your personal, family, and business life disrupted, causing your goals to be left unaccomplished? If you answered one or more "YES," then your behaviors definitely need change!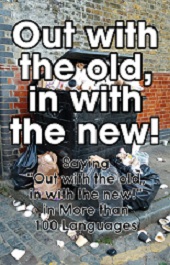 AHAthat has released their new addition to their series where they translate phrases into 100+ languages — "Out with the old, in with the new!". In this social media enabled eBook, one can share different translation of this phrase on Twitter, Facebook, LinkedIn and Google+.
Say to yourself: "Out with the old, in with the new!" Better yet, save a friend by telling them that phrase too in more than 100 languages from this AHAbook. Break your bad habits before it breaks you! Replace them with something new and of course, with something that serves you good.
Here are some of the translations you can find in the AHAbook:
Also, please check out http://aha.pub/phrases for a growing library of phrase books which are absolutely fun to share.
About AHAthat™:
AHAthat makes is easy to SHARE, AUTHOR & PROMOTE you. As the first AHAleadership (Thought Leadership) platform on the market, it allows you to 1) Easily build your brand by sharing others' quotes with proper attribution and 2) Show your expertise by creating your book in 8-10 hours and having others share your quotes.
There are over 35k quotes from recognized AHAleaders that you can share in seconds for free. All content on the platform is curated by THiNKaha which has published over 800 physical and eBooks.
About THiNKaha®:
THiNKaha makes it easy to create compelling content that helps turn corporate experts into recognized thought leaders. THiNKaha services include: Curation for the Aha Amplifier, Thought Leadership Mentoring/Coaching, Book Publishing, Social Media, Traditional Media Coaching, Vetted Referrals, Producing and Repurposing Content for Shows like Thought Leader Life, and many other Thought Leadership Services, including the Creation and Support of Corporations' Thought Leadership Blueprints.
To have us help your corporation amplify its thought leadership, please contact Jenilee Maniti at jenilee.maniti@thinkaha.com or call (408) 257-3000.