Press Release
Casey Lucius' Scrappy Campaigning Has Everything You Need to Know About Leadership and Life on the Campaign Trail
CUPERTINO, CA – June 19, 2018 – Public service is two things: public and service. We need good, dedicated people who are selfless and have the passion to serve. Yes, it's risky but at the end of the day, rewarding.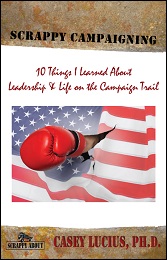 Running a political campaign is a lot of work. The activities associated with leading any organization can be overwhelming. Candidates, campaign managers, volunteers, or team leaders would share the same sentiment. We often hear stories of political success, but little do we know of the efforts of the campaign. This book provides a realistic look into life on the campaign trail.
Casey Lucius is the founder of Launch Learning Systems, focusing on strategic planning and succession management for municipalities, non-profits, and private industry professionals. In Scrappy Campaigning, Lucius captures the joys and struggles of running a political campaign, whether for a small local election or a large national one. This book is both personal and practical and will help anyone interested in running for office or working on a campaign. As many people are baffled by politics today and want to "do something," she provides the tools and encouragement to contribute and be successful at any level. Lucius also details, through experience and analysis, the unexpected things that can happen during any campaign. While there are often negative experiences associated with leading any organization, this is a positive and encouraging book full of helpful lessons.
"Casey is an amazing individual who grew so much in her campaigning. She then captured the lessons learned and presented them in a way for others to grow and learn. This is a powerful book." says Mitchell Levy, The AHA Guy at AHAthat™ (http://AHAthat.com).
Whether you are the candidate, campaign manager, a volunteer, or team leader, this book will prepare you to lead a team and stand strong in the face of any obstacle.
A paperback and Kindle versions of this book are available on Amazon. From June 19 to June 23, you can download the Kindle version of this book for free! Save the date and grab your copy: https://www.amazon.com/Scrappy-Campaigning-Learned-Leadership-Campaign-ebook/dp/B07D5FTLDB/.
About Happy About®:
Happy About® (http://www.happyabout.com/) books educate, entertain, and evoke. We publish non-fiction books for individual business authors who excel in their field of expertise, as well as corporations that want to establish thought leadership and lead generation through a series of books.
To have us help your corporation amplify its thought leadership, contact Jenilee Maniti at jenilee.maniti@thinkaha.com or call (408) 257-3000.