Press Release
Know the Key to Sales Success with C. Lee Smith's
"SalesCred™: How Buyers Qualify Sellers"
Learn how credibility can help you bring more buyers to your door and catapult your sales
CUPERTINO, CA – October 8, 2020 – In sales, there's a lot of talk about qualifying the buyer. What's the lead scoring say? Are they a marketing-qualified lead or a sales-qualified lead? Do they fit our ideal customer profile? Will they buy enough to become an enterprise account?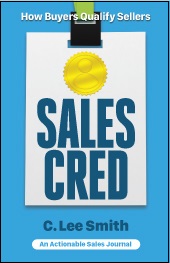 Perhaps you've gotten it exactly BACKWARD. Instead, you should be talking about how the buyer qualifies (and disqualifies) the seller. What determines whom they invite to compete for the business? Whom do they call or email back? And whom they share sensitive business information with? How the buyer perceives the seller has significantly more impact on whether a sale is made than how the seller perceives the buyer.
In this book, SalesCred™: How Buyers Qualify Sellers, C. Lee Smith tackles why having Sales Credibility is so vitally important. SalesCred™ gives you access to important people and information that ordinary salespeople simply can't get.
Hardcover, paperback, and Kindle versions of this book are available on Amazon. You can download the Kindle version of this book for FREE until October 11 Grab your copy now: http://getbook.at/SalesCred
"I believe that sales, when done right, is a noble profession, but the industry needs a framework to make it easier for salespeople to learn how to be credible. This book discusses that framework, which is represented in The Hierarchy of Sales Credibility pictured below. The hierarchy is based on the work I have been doing at my firm, SalesFuel, for more than thirty years," says C. Lee Smith (https://aha.pub/CLeeSmith), CEO of SalesFuel and author of SalesCred™.
"As I was in the midst of pulling together a movement centered on credibility, I got to talk to C. Lee Smith. He was just into it, and now, he wrote a book on sales credibility! Never before has credibility been talked about in such an important aspect of business. His book, SalesCred™, is such a powerful book loaded with insights, which are backed up with data, on how salespeople can become more credible and more successful. This is a book you're going to want to read."
Here are five (5) notable AHA messages that you can share with others:
Read and share AHA messages in this AHAbook on Twitter, LinkedIn, and Facebook by going to: https://aha.pub/SalesCred
About Credibility Nation™:
Credibility Nation is the place where individuals and corporations can learn how to do business in a credible way. Credibility Nation does this by helping you to:
Be part of a movement that will change this world into a better one — a world we will be proud to live in, and a world that our children will want to live in. (https://credibilitynation.com)

Gain clarity on who you are, who the audience you serve really is, and the "right" messaging you should be delivering in order to attract the "right" people to you. (https://mitchelllevy.com/cpop)

Enhance your credibility in your LinkedIn profile and turn it into a lead magnet. https://www.credibilitynation.com/courses/linkedin
About THiNKaha®:
THiNKaha delivers credibility through books, courses, and credreels™.THiNKaha makes it easy to:
Ghostwrite an Amazon Bestselling book and a one-hour course in a topic you have the expertise in. https://www.AHAthat.com/Author/

Create your credibility sizzle reel, showcase who you are and your credibility to your audience. https://www.ThoughtLeaderLife.com/Get-Your-Credreel/

Spread credust (https://Credust.com) with the AHAthat platform. (https://AHAthat.com)
To have us help your corporation amplify its credibility and thought leadership, please contact Jenilee Maniti at jenilee.maniti@thinkaha.com or call (408) 257-3000.