Press Release
How We Can Be Greater Together: Want a Happier, More Meaningful & More Productive Life?
Learn how to share success and optimize your network by multiplying praise and engaging in productive conversations
CUPERTINO, CA – May 13, 2020 – In this day and age, it's not easy to forge connections out of genuine meetings with like-minded individuals that grow into beautiful friendships and/or work relationships. When you findpeople with whom you are mutually in agreement to lift one another up, help accomplish tasks, and make each other's lives meaningful, that's a healthy and encouraging environment to be in.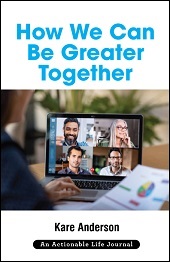 The AHAmessages™ in, "How We Can Be Greater Together: Want a Happier, More Meaningful & More Productive Life," contain insights on how to engage with those you consider co-partners, people with whom you can grow together and make reaching goals fun, productive, and beneficial for one another. You'll learn how to attract only good things toward each other, so no one's left behind and everyone succeeds in life, whether at work or in their community or personal/social life.
Hardcover, paperback, and Kindle versions of this book are available on Amazon. You can download the Kindle version of this book for FREE until May 17! Grab your copy now: https://getbook.at/BeGreaterTogether.
"This book empowers people how to accomplish more while being heard, appreciating others, increasing one's abilities and capacities, and adding positive responses to be advocates of each other and optimize opportunities in various areas in life," says Mitchell Levy (https://aha.pub/MitchellLevy), Global Credibility Expert and The AHA Guy at AHAthat® (https://AHAthat.com).
Here are five notable AHAmessages that you can share with others:
About AHAthat®:
AHAthat makes it easy for you to establish your expertise, whether it's by sharing high-quality content of thought leaders from around the world (over 53k AHAmessages that you can share in seconds, for free) or by quickly creating a thought leadership book of your own. You can press the "easy button" by having us ghostwrite your book and run an Amazon Bestseller Campaign. If you want to write it yourself, you can follow a simple three-step writing process. Visit https://AHAthat.com/Author for more details.
We also encourage you to read your book out loud so we can distribute the audio version on 23 audio platforms and incorporate it onto AHAthat Radio https://AHAthatRadio.com, where AHAs are streamed 24 hours a day. All content on the platform is curated by THiNKaha, which has published over 800 physical books and e-books. Visit https://AHAthat.com, and start sharing compelling content today for free in seconds.
About THiNKaha®:
THiNKaha makes it easy to create compelling content that helps turn corporate experts into recognized thought leaders. THiNKaha Services include: Curation for AHAthat, Thought Leadership Mentoring/Coaching, Book Publishing, Social Media, Traditional Media Coaching, Vetted Referrals, Producing and Repurposing Content for Shows like Thought Leader Life, Grow Your 1099, as well as other Thought Leadership Services, including the Creation and Support of Corporations' Thought Leadership Blueprints.
To have us help your corporation amplify its thought leadership, please contact Jenilee Maniti at jenilee.maniti@thinkaha.com or call (408) 257-3000.