Press Release
Knowing Your Superpowers Is the Key to Your Success in a Changing World
Realize your superpowers and bring them out in order to succeed in a changing world
CUPERTINO, CA – May 27, 2020 – People in the new world of work often find themselves lost in a world that changes fast and requires constant learning and change. But you do not need to be a victim of this change. Instead you can develop key mindsets and behaviours (let's call them human superpowers) that can help you thrive instead of survive the challenges.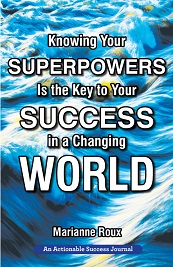 The AHAmessages™ in, "Knowing Your Superpowers Is the Key to Your Success in a Changing World," uncover the human skills needed by every individual, team, and organisation to thrive in the new world of work. Marianne Roux researched the psychological and behavioural methods and tools used in mindset, behavioural and brain theory and practice over the last 25 years and narrowed them down to six essentials.
Hardcover, paperback, and Kindle versions of this book are available on Amazon. You can download the Kindle version of this book for FREE until May 31! Grab your copy now: http://getbook.at/KnowingYourSuperpowers.
"Marianne Roux did a phenomenal job in this book. Her book is a must-have for people who want to succeed in a changing world. She talks about six beautiful superpowers that people have and should work on to bring out even more which can help them succeed," says Mitchell Levy (https://aha.pub/MitchellLevy), Global Credibility Expert.
Here are five notable AHAmessages that you can share with others:
About AHAthat®:
AHAthat makes it easy for you to establish your expertise, whether it's by sharing high-quality content of thought leaders from around the world (over 53k AHAmessages that you can share in seconds, for free) or by quickly creating a thought leadership book of your own. You can press the "easy button" by having us ghostwrite your book and run an Amazon Bestseller Campaign. If you want to write it yourself, you can follow a simple three-step writing process. Visit https://AHAthat.com/Author for more details.
We also encourage you to read your book out loud so we can distribute the audio version on 23 audio platforms and incorporate it onto AHAthat Radio https://AHAthatRadio.com, where AHAs are streamed 24 hours a day. All content on the platform is curated by THiNKaha, which has published over 800 physical books and e-books. Visit https://AHAthat.com, and start sharing compelling content today for free in seconds.
About THiNKaha®:
THiNKaha makes it easy to create compelling content that helps turn corporate experts into recognized thought leaders. THiNKaha Services include: Curation for AHAthat, Thought Leadership Mentoring/Coaching, Book Publishing, Social Media, Traditional Media Coaching, Vetted Referrals, Producing and Repurposing Content for Shows like Thought Leader Life, Grow Your 1099, as well as other Thought Leadership Services, including the Creation and Support of Corporations' Thought Leadership Blueprints.
To have us help your corporation amplify its thought leadership, please contact Jenilee Maniti at jenilee.maniti@thinkaha.com or call (408) 257-3000.