Press Release
Speak With Your Heart ThroughAHAthat's Language Books:
"Be at Peace," "She Once Carried You in Her Arms,"
"May You Be Comforted," and
"At Peace in Heaven"
Different language translations of today's most powerful words
to share to people in need of comfort and revival.
CUPERTINO, CA – May 18, 2019 – We live in a world where language barriers exist. With thousands of languages being spoken by billions ofpeople every day, there is always a chancethat someone will want to speak a differentlanguage in order to express theirthoughts and opinions.Sincemany of us care about translating our ideas into various languages in order for themto be accepted and shared by people all over the world, we should also care about sharing inspiring and comforting words.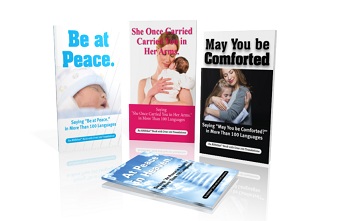 AHAthat has taken the initiative of compiling multiple language books containing AHAmessages™of different language translations of meaningful words to comfort other people. In theAHAbooks™, "Be at Peace," "She Once Carried You in Her Arms," "May You Be Comforted," and "At Peace in Heaven",you will find ways to wish someone to be at peace with themselvesand the people around them, whichis refreshing to one's soul. Every once in a while, we need to be told these simple yet impactful thoughts, the same way that we need to let others hear these words from us. Language should not be a barrier in relaying your well wishes to your fellow humans around the globe.
With over a hundred translations of four reassuring phrases, these AHAmessagesaresurely worth sharing, whether you say them directly to a person or post them on your social media pages to encourage people in need.
"The AHAthat initiative on compiling language books is one way of uniting people from various nationalities amidst diversity in language," says Mitchell Levy (http://aha.pub/MitchellLevy), Global Credibility Expert and The AHA Guy at AHAthat® (https://AHAthat.com).
Here are five AHAmessages that you may ponder and share to people who might need uplifting today:
Read and share the AHAmessages in these AHAbooks on Twitter, LinkedIn, and Facebook by going to http://aha.pub/BeAtPeace, http://aha.pub/InHerArms, http://aha.pub/BeComforted, and http://aha.pub//AtPeaceInHeaven.
About AHAthat®:
AHAthat makes it easy for you to establish your expertise, whether it's by sharing high-quality content of thought leaders from around the world (over 48k AHAmessages that you can share in seconds, for free) or by quickly creating a thought leadership book of your own. You can press the "easy button" by having us ghostwrite your book and run an Amazon Bestseller Campaign. If you want to write it yourself, you can follow a simple three-step writing process. Visit https://AHAthat.com/Author for more details.
We also encourage you to read your book out loud so we can distribute the audio version on 23 audio platforms and incorporate it onto AHAthat Radio https://AHAthatRadio.com, where AHAs are streamed 24 hours a day. All content on the platform is curated by THiNKaha, which has published over 800 physical books and e-books. Visit https://AHAthat.com, and start sharing compelling content today for free in seconds.
About THiNKaha®:
THiNKaha makes it easy to create compelling content that helps turn corporate experts into recognized thought leaders. THiNKaha Services include: Curation for AHAthat, Thought Leadership Mentoring/Coaching, Book Publishing, Social Media, Traditional Media Coaching, Vetted Referrals, Producing and Repurposing Content for Shows like Thought Leader Life, Grow Your 1099, as well as other Thought Leadership Services, including the Creation and Support of Corporations' Thought Leadership Blueprints.
To have us help your corporation amplify its thought leadership, please contact Jenilee Maniti at jenilee.maniti@thinkaha.com or call (408) 257-3000.