Press Release
Smile Your Way Through Life With Marge Powers' "Something to Smile About"
Influential ideas on how to bring the best out of every day
CUPERTINO, CA – July 17, 2017 – Each one of us has come to a point where we've struggled and faced problems. It's unavoidable. Whatever we do, problems keep coming our way. Do you let these hardships get the best of you? Do you let them ruin your entire day? How do you deal with all the negativity?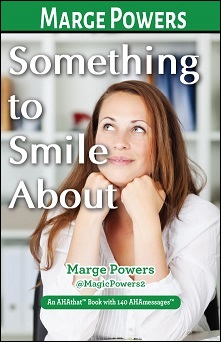 Marge Powers, a professional NLP Life Learning Practitioner and author, brings us a compelling and inspirational book on how to find something worth smiling about despite the difficulties we encounter. "Something to Smile About" gives us some of the best worthwhile ideas on how to handle negativity and see the positive side of things.
To see and learn how to automatically share AHAmessages from this book, you may check out this video: https://youtu.be/7Vx8-waG3_4. To know how to automatically share via AHAblaster, please watch: https://youtu.be/U4gwXOTgEfk.
"Life is short and full of hardships. Smile despite the circumstances and don't let negativity define you. Some days, it is easy to smile. Some days, it is not. If you're having one of those days, you should check out this book," says Mitchell Levy @happyabout, The AHA Guy Thought Leader at AHAthat™ (http://AHAthat.com).
Here are a few of the uplifting AHAmessages™ from this book:
It takes fewer muscles to smile than to frown, so why not give smiling a try? #MadeYouSmile @MagicPowers2

Smiling is about feeling happy and letting your face express it. You open to all that? #MadeYouSmile @MagicPowers2

Here's a very simple trick to smiling: imagine you see something you really like. Voila! #MadeYouSmile @MagicPowers2

Happiness is our Basic Nature. It is right where you are. Look around and give yourself permission to smile. #MadeYouSmile @MagicPowers2

Want to smile? Eat some comfort food, works every time. #MadeYouSmile @MagicPowers2
Find something to smile about by going to AHAthat http://AHAthat.comand finding this book, or going to this AHAbook directly at http://aha.pub/MadeYouSmileto easily read and share AHAmessages on Twitter, Facebook, LinkedIn, and Google+.
About AHAthat™:
AHAthat makes is easy to SHARE, AUTHOR & PROMOTE you. AHAthat allows you to 1) Easily build your brand by sharing others' quotes with proper attribution and 2) Show your expertise by creating your book in 8 hours or less and having others share your quotes.
There are over 40k quotes from recognized AHAleaders that you can share in seconds for free. All content on the platform is curated by THiNKaha which has published over 800 physical and eBooks.
About THiNKaha®:
THiNKaha makes it easy to create compelling content that helps turn corporate experts into recognized thought leaders. THiNKaha Services include: Curation for AHAthat, Thought Leadership Mentoring/Coaching, Book Publishing, Social Media, Traditional Media Coaching, Vetted Referrals, Producing and Repurposing Content for Shows like Thought Leader Life and many other Thought Leadership Services, including the Creation and Support of Corporations' Thought Leadership Blueprints.
To have us help your corporation amplify its thought leadership, please contact Genivieve Casabuena at genivieve.casabuena@thinkaha.com or call (408) 257-3000.